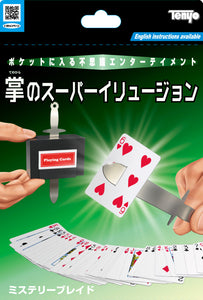 Mystery Blade
Super mysterious illusion created by tools that are so small that they can fit in your hand!
With the specially made mini-playing cards and clever tricks hidden in the frame, you can carefully show the impossible phenomenon in front of the opponent. Put it in your pocket and hold a small illusion show anytime, anywhere!
Have your opponent choose one from the mini playing cards, put it back in the box and fit it firmly into the frame.
Pierce the metal sword from the middle of the frame!
* After you're done, you can also hand over the tools to your opponent and ask them to examine it! There is not a single scratch on the playing card, even though the sword definitely penetrated it! However, if you look closely, there is only one hole. That's the card the opponent chose!