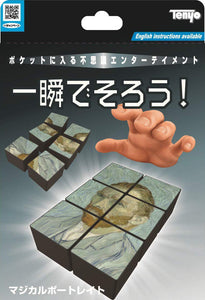 Instant Portrait
With a newly devised device, you can complete a disjointed picture in an instant! You can also change the picture and put together a congratulatory message in an instant. It's a brilliant magic that can liven up the place with your own magic!
There are two separate sets of pictures drawn on blocks.
Assemble one side and have them confirm that it will take time to complete even with just 6 pieces.
However, if you put a box over the rest of the blocks...
In an instant, the blocks are aligned and the picture is completed!
Application example: You can also customize it by yourself, such as displaying a message.